General Information
ACKNOWLEDGMENTS: Acknowledgments are made prior to production with the express purpose of communicating both receipt of the order and information regarding interpretation of instructions, price, shipping and design. This information must be examined carefully so that any misunderstandings can be resolved prior to production. Otherwise, the order will be produced and invoiced exactly as acknowledged. Acknowledged shipping dates are estimated based upon anticipated production time and availability of wares. No allowance is made for art revisions, material changes to the order, or other circumstances beyond our control.
Back to TOP
Files must be in vector format with all fonts converted to outlines, curves or paths. Bitmap files must be reviewed and approved by Art Department and may require an art charge. We accept the following formats: Adobe Illustrator CC, CorelDraw 13, and Photoshop CC (four color process only). Photocopies, faxed art, sketches, stationary, business cards, and other imprinted products are not considered sufficient print ready art, and may be subject to an art charge for recreation when possible. ETS reserves the right to reject any art that is not considered print ready. Art adjustments and recreations are charged at an hourly rate of $75.00(g), which are quoted before production begins. Art submission emails must specify distributor name and purchase order number. IF NOT SPECIFIED ON THE PURCHASE ORDER, ART SIZE AND PLACEMENT WILL BE AT THE DISCRETION OF THE ETS ART DEPARTMENT.
Typesetting
Typesetting is charged at a rate of $20.00(g) per three lines of straight-line copy. Unless otherwise specified, typestyle is at the discretion of the art department.
Electronic art
Files must be vector format with all fonts converted to outlines, curves or paths. Pixel based or bitmap artwork will require an art charge and may require a pre-production sample (prior review required). Emails must specify distributor name and purchase order number.
We accept the following formats:
Adobe Illustrator CC (.ai)
Encapsulated PostScript (.eps)
Portable Document Format (.pdf)
Scalable Vector Graphics (.svg)
Photoshop CC (.psd) [four color process only - emails must specify]
Halftones
Halftones are printed at 60 DPI and must be reviewed and approved by the Art Department prior to printing. A Pre-Production Proof (PPP) may be required.
Back to TOP
BLANKS (No imprint) Items: Use EQP Quantity pricing. Minimum order is $250.00. Minimum is 144 pcs. per color/per import styles. 72-144 Minimum on USA items depending on shape and color call factory to confirm. Allow 2-4 weeks.
Back to TOP
CANCELLATIONS, CORRECTIONS, OR CHANGES: Any changes, corrections, or cancellations of an order received by the factory can be made only with the understanding that the factory will receive full compensation for any order processing or production which has already occurred. The factory reserves the right to commence production of a future shipment order at any time after receipt of such an order.
CHANGE OF COPY: Is considered to be a change in lettering or numbering only. Minimum number of items per change is 72 with a $30.00 (g) charge per change. A change in design and size within an order will cause the order to be entered as separate orders and priced accordingly.
Back to TOP
CHANGE OF INK: When the same imprint is to be imprinted in more than one color, add $30.00 (g) per change, minimum is 72 pcs.
Back to TOP
COLOR MATCH: $40.00 (g) per color. A request for a special color must be clearly stated on the order and a swatch or PMS designation included. Due to the high temperature firing of ceramic inks an exact match is not always possible. Special colors normally DELAY an order. Please allow an ADDITIONAL 3-4 WEEKS for special color development.
Back to TOP
COLORS OF IMPRINT: Due to the nature of ceramic inks, which are fired to the ware at high temperatures, there can be slight color variations. Exact color matches cannot be guaranteed. We try to match your color selection as closely as possible using PMS numbers as a reference only.
Back to TOP
COMBINATION ORDERS: A combination order for two or more items with exactly the same size and design imprint will be billed at the combined quantity price.
Back to TOP
COMPLAINTS: All complaints must be made within 10 days of shipment. No merchandise may be returned without prior authorization from the factory. All returns must have a RETURN AUTHORIZATION NUMBER. No exceptions. For complaints involving freight carrier, breakage, or shortage, refer to "Shipping Information."
Factory disclaims any responsibility for goods after 30 days in buyer's possession.
Back to TOP
CREDIT POLICY: NEW ACCOUNTS & CUSTOMER ORDERS.
The Source is a manufacturer of unique customer ceramic mugs & gift items-many of which are made & designed for specific customers with specific needs. Therefore, all 1st time customers will be required to send 50% deposits with order & balance upon completion. After 1st order B-K will have the opportunity to check credit references of each customer. Any order exceeding $10,000 requires a deposit (New & old customers). The Source now accepts Visa, Master Card, or a faxed check as payment for your convenience.
Back to TOP
CUSTOM GLAZE COLORS: We can manufacture our ceramic products in many unusual glaze colors. The minimum order for a custom glaze is 500 pieces. The additional cost for Sample $250 Net and Add $1.50 (g) Extra per Piece. Please check with factory for the availability of a custom color and allow 5 to 8 weeks for delivery. We will custom glaze USA made pieces only.
Back to TOP
CUSTOM PIECES: THE SOURCE can create custom ceramic pieces from your ideas. The minimum order for a custom handle is 1000 pieces. The minimum order for custom mug or pieces is 1000-2500 pieces. Tooling and custom items not in catalog must all be accompanied with a deposit. Tooling must be paid in full and a deposit on the order to begin production. Any additional information, please contact factory.
Back to TOP
DECALS (Ceramic or Glass): Tight registration, alignment or fine detail in art may required the use of a decal. Decal Cost: 144 - $1.50 (g), 288 - $1.25 (g), 576+ - $1.00(g) for 1 Side. For Second Side or Wraparound Call Office for Pricing. This is an up charge to normal pricing and additional to colors and cost. Decals may require a white underlay on colored mugs, if White is needed an extra color imprint and an extra screen will be added. Less than minimums are not available for Decals. Decal Orders are subject to an overrun or underrun of up to 10%.
We Print with Organic Inks - Dishwasher Safe/Top Rack - Hand Wash Recommended -
DECALS

Decals

1-3 Spot Colors

144 Pieces Minimum Order

Decals

4-6 Spot Colors

288 Pieces Minimum Order

Decals

7 and More Spot Colors

500 Pieces Minimum Order

Screen charges of $65.00 (g) per color
DECALS 4 Color Process

Decals

Four Color Process Only

288 Pieces Minimum Order

$450.00 (g) non-refundable set-up and sampling charge will be applied. For all Four Color Process Artworks Submit Art for Viewing Purposes as it May need additional Spot Colors at an Extra Cost.
Back to TOP
DECAL HANDLE: Decal Handle Print $1.50 (g) Each Plus Screen Charge $65.00 (g)
Back to TOP
DATED DROP SHIPMENTS: When it is necessary for us to ship parts of an order at some future date, the entire order will be produced and invoiced at the time the first shipment is made, and the balance of the order is stored in our warehouse. There will be a $15.00 (g) charge for each release from inventory after the initial shipment is made and the entire order must be shipped within 30 days. Min: 144 pcs.
Back to TOP
DEEP ETCH IMPRINTING: 1 color/1 side $2.00 (g) per pc. Second side-wraparound $2.00 (g) extra. Plus screen charge. We can deep etch imprints that are very bold, no thin lines or tight spacing. When deep etch imprinting we can imprint one to two colors (only if not touching). We are limited to select USA made styles. Hand glazed thickness on mugs will alter etch imprint as well as some colors. There may be variations on etch which should be considered acceptable. If artwork needs to be altered, in order to deep etch imprint, we will only call to notify you of any artwork charges exceeding $25.00. Limited number of stock deep etch color fill options available. Call factory for list of colors.
DIRECT SCREEN ORDERS: No colors overlapping, or tight registration.
Back to TOP
DISHWASHING & MICROWAVE USE: Hand washing is recommended for all of our products to promote the durability of the imprints. Dishwashing using commercial equipment (in restaurants, schools, etc.) is discouraged; the harsh detergents and extremely hot water will damage the decorations. Do not microwave any products containing metal, rubber or plastic; ceramics and glass items are generally safe for microwave unless otherwise noted on the product or related care information.
Back to TOP
FREIGHT CHARGES: 3rd PARTY-All orders prepaid and invoiced by the carrier directly to the distributor. Your Invoice will read (3rd Party). Shipments may be sent collect or freight prepaid and added directly to the invoice.
Back to TOP
HALOS: Colored Halo is available at $2.00 (g) per item. Colored Band is available at $2.50 (g) per item. Colored Halo and Colored Band are Microwave Safe.
Back to TOP
HALFTONES: On halftones we use no more than 60 lines per inch screen between 40% - 60%. However, artwork not submitted as halftones require special quotation.
Back to TOP
IMPRINT POSITION: On mugs, and other ware with handles, the standard imprint position is on the side facing a right-handed drinker. The position is referred to as the "front" and is where we will imprint the item unless otherwise specified. The side facing the left-handed drinker can be specified by using the term "back." A third position available can be specified as "opposite the handle."
Back to TOP
IMPRINTS FEATURED: Products and logos shown in this catalog appear only to illustrate the basic products and the ability to include messages and art on them, but are never intended to suggest that the imprints were designed by this company or that the products with those specific imprints are readily available to any purchaser without permission of the owners of the trademarked or copyrighted art or copy.
Back to TOP
LIP INSIDE IMPRINT: Cost $2.00 (g) per item per Side. Screen charge of $65.00 (g) per color. Available on limited ceramic styles.
Back to TOP
INSERTS: We will gladly insert items such as business cards or special printed cards into your merchandise prior to shipping at no additional charge. However, the material must be folded to easily drop into the item or mailer involved. If there is any question as to the ease of inserting, please contact the factory for a special quote.
Back to TOP
LESS THAN MINIMUM: Our minimum order is 144 pieces for Imports. Available on Imports Only, for less than minimum there is a LTM charge of $60.00 (g), plus screen $65.00 (g) per color and the items are billed at the 144 quantity price. Direct Screen Only. We will produce as few as 72 pieces. Exact Quantities $120.00 (g) per color.
Back to TOP
LESS THAN MINIMUM for USA MADE CERAMICS: Our minimum order of 144 pieces LTM NOT AVAILABLE.
Back to TOP
MAILERS: The following prices apply to mailers for most items in our catalog. Freight rate and quantity per case will vary according to packing.
| | | | |
| --- | --- | --- | --- |
| Item Sized | Individual | Two-pack | Four-pack |
| 1 - 11 oz. | $ 4.25 (g) ea. | $ 5.25 (g) ea. | $ 6.00 (g) ea. |
| 12 - 20 oz. | $ 4.50 (g) ea. | $ 5.50 (g) ea. | $ 6.25 (g) ea. |
Back to TOP
MINIMUMS: Our minimum order is 144 pieces. Minimum quantity per matte or gloss glaze color is 144 pieces.
Back to TOP
NATURE OF CERAMICS: Due to the inherent properties of ceramic ware, there may be small imperfections and irregularities which should not be perceived as defective. Variations in materials, firing temperatures, item size and imprint pigments may result in variation in glaze and imprint colors. These variations must be considered acceptable.
Back to TOP
OVER AND UNDER RUNS: Due to the difficulty of manufacturing exact requirements with out sacrificing quality, a shipment of 10% over or under the quantity ordered must be considered as a fulfillment of the order. Those orders stating "exact quantity only" will not be acceptable.
Back to TOP
OUTSIDE BOTTOM IMPRINT: Outside Bottom Print $1.25 (g) Each Plus Screen Charge $65.00 (g).
Decal Handle Print $1.50 (g) Each Plus Screen Charge $65.00 (g).
Back to TOP
PERSONALIZATION'S: THE Standard personalization charge is $3.00 (g) per item, per line. ALL NAMES will be imprinted in black. No fewer than 50 personalization's will be done on any order at one time. For another ceramic color $3.00 (g) per item. Actual signature personalization or different typeset other than chart $3.25 (g) per item. Personalization lists must be submitted typewritten alphabetized and in art file. Typesetting names is an additional charge. Plus screen charge $65.00 (g) per color.
PRODUCTION TIME: Two to Three weeks are usually required to process an order, depending upon the complexity of design and season of the year.
Back to TOP
PRE-PRODUCTION PROOF: (Physical decal or physical screen sample) An actual pre-production sample of a bonafide order is available for additional cost of $40.00 (g) per color, plus screen charges not rebateable. Orders canceled after production of a proof will be billed for screen charges at $65.00 (g) per color, and artwork. You are also responsible for manufactured pieces should this order be canceled. Fee is a 100% of total order which includes: labor, material, storage and restock. To prevent these charges - (order a speculative sample).
Back to TOP
PROOFS: Black and white paper proofs, $25.00 (g), Separation proof, $35.00 (g).
Back to TOP
PURPLE & PINK: Counts as a 2 color imprint (contains gold).
Back to TOP
REGISTRATION OF MULTIPLE COLOR DESIGNS: In multiple colored designs (two or more colors) where it becomes necessary to register one color or more next to another, there is the possibility of misregistration amounting to approximately 3/32" (2.5mm) to the right or left, depending on the size and shape of the ware being decorated. This tolerance meets industry standards, and must be considered acceptable.
Back to TOP
RUSH CHARGES: Charges for rush orders will be assessed by THE SOURCE and based on our schedule at the time the order is received. Any rush charges will be quoted before the order is put into production.
Back to TOP
SAMPLE POLICY: 3 Samples are only offered free of charge if a shipper number is provided.

If blank samples are ordered we will send them out in 1-2 days if stock is available but there will be a charge at EQP for the items ordered.

If the samples are shipping ground it can take up to 2-3 days to leave our warehouse unless it is shipping overnight, 2ND

day or 3 day then it will ship the same day the sample request is placed. (We do not mail samples.)

Back to TOP
SAND BLASTING: Now available $6.50 (g), one side 2"H by 2"W Call factory if size or Art is Larger. Plus set-up $125.00 (g).
Not available on Plastic/Acrylic items. Repeat orders for the same copy Set-up of $80.00 (g) per color when re-ordered, plus shipping charges will be quoted before the order is put into production. Color Fill Logos $5.00 (g) per color/per side. Set-Up of $80.00 (g) per color.
Back to TOP
SCREEN CHARGES: Screen charges of $65.00 (g) per color, initial order only. Repeat orders for the same copy, same size, same item. Screen charge of $40.00(g) per color when re order occurs within three months. After 3 Months Full Charge of Screens $65.00 (g) per color. Position may vary by 3/32" due to new screen being made.
We Print with Organic Inks - Dishwasher Safe/Top Rack - Hand Wash Recommended -
Back to TOP
SHIPPING INFORMATION: Normal shipping is in master cartons by motor freight. UPS and FedEx Shipments: Most items do Ship by dimensional weights, check with factory. Due to the packaging for consolidation and protection of product that we must provide, glass and ceramic shipments will be charged a $7.00 (g) per master carton handling coverage for USA MADE MUGS and $9.50 (g) for IMPORTED CERAMIC. These shipments may be packed 24 or 36 per carton depending on size of item. IN THE EVENT YOU DECLINE THE USE OF OUR RECOMMENDED PACKAGING FOR MUGS OR STEMWEAR, IT IS UNDERSTOOD THAT BERNEY-KARP INC. IS NOT RESPONSIBLE FOR ANY BREAKAGE CLAIMS. NOTE: Factory recommends shipment by motor freight when weight exceeds 500 lbs. per shipment. (We recommend U.P.S. not be used) If a carrier is not specified, or the specified carrier does not service Los Angeles, the factory will select the carrier. Bills of Lading are normally made out so that the shipment is prepaid and the carrier will bill the distributor directly. Variances, such as "Ship Collect" must be stated on the purchase order. THE SOURCE has no control of the shipment once it is picked up and time enroute can only be estimated. When freight charges are to be added to your invoice, a charge of 5% of the freight bill will be included. No Parcel Post. No COD shipments.
All goods are shipped at the buyer's risk and all claims must be made against the carrier. We do not insure on time delivery or safe carriage of goods. Recourse rests exclusively with the transportation company. Claims for freight adjustments, breakage and delays in transit must be filed with the carrier within 15 days or receipt. Unless otherwise requested, all items will be shipped at a released value "not to exceed" $.90 per lb. Any claims paid by the transportation company would be based upon this value. Title to the goods passes to the buyer at the F.O.B. point.
Back to TOP
SPECIAL COLORS: We can usually match colors. However, because of the nature of ceramic paints we cannot guarantee exact matches, especially in lavender and purple. Requests for colors other than standard must be clearly marked "match swatch enclosed" and be accompanied by the swatch of PMS color. If not accompanied with the purchase order, our policy is we cannot accept your order.
Back to TOP
SPECIFIC DELIVERY DATE: We will make every effort to meet this date, and will guarantee specific shipping dates. However, after the carrier receives shipment we no longer have control and as such cannot guarantee or be responsible for specific arrival dates.
Back to TOP
SPECULATIVE SAMPLES: Speculative sample on request for $250.00 (g) per color, up to 2 Samples. Includes screen charges and any necessary art charges. Due to the variations in ceramic dye lots, we can not guarantee an exact match in mug colors from what you receive. Samples may vary slightly from entire production run.
Back to TOP
SPLIT SHIPMENTS: When the total order is prepared and shipped at one time to multiple destinations, the order will be billed at total quantity price plus $8.00 (g) for each extra destination after the first. Broken Cases $16.00 (g) Must be in standard carton quantities. A disk must be submitted with multiple locations. Please indicate quantity to ship per location.
Floppy disk can be submitted in Excel, Lotus, or D-Base III. If a disk can not be submitted only a list, there will be an additional charge of $1.00 (g) per location. When the total order is not shipped at one time, see paragraph "Dated Drop shipments'.
TRADEMARK USAGE: All copy or other material submitted by the customer for use by the factory in producing items ordered, whether or not artwork by the factory is required therewith, will be accepted by the factory as being submitted in full compliance with all applicable laws regarding trademark, service mark, copyright, right of privacy, patent, or similar protection. The customer, by submitting such copy or other material, represents that the use thereof by the factory on the items ordered will not violate any such laws, and the factory hereby disclaims any and all liability for compliance with such laws in the use of the customer's copy or other material. The customer hereby agrees to hold the factory harmless to any damages, costs, and/or expenses when they arise under all such laws as a consequence of the factory's use of said copy or other material or the operations undertaken by this agreement.
Back to TOP
TWO TONE: Available on select USA-made styles. Additional cost $1.50 (g). For Off White inside and Black, Blue, Hunter green gloss colors outside. Other options available at addition costs.
Back to TOP
USA MADE FLAG: We apply a Made in USA Decal on the Bottom of all 100% Hand Crafted Cups / Items we produce. (If Time Permits)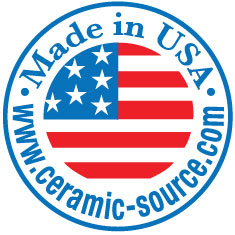 Back to TOP

BLANK (NO IMPRINT) ITEMS: Use 144 quantity pricing. Minimum order is $250. Minimum 72 pcs per color/per style. Allow 2-4 weeks.

UNION LABEL: Not available.

Back to TOP

WARRANTY: THE SOURCE warrants its products for satisfactory workmanship and material. Defective merchandise will be replaced or credit will be given, but our liability is limited to the invoiced cost of the item.

Back to TOP

FOUR COLOR PROCESS: Four color process involves making separations from a customers original full color artwork, breaking down its full range of colors and tones into four basic colors.

Due to limitations of inorganic ceramic materials, the reproduction of artwork will vary somewhat from the original. For best results, white mugs are suggested.

To avoid art charges, we recommend that you submit camera ready artwork as follows:

Photoshop image in a disk, CD, Zip or e-mail at least 280 dpi.

For better control of the whole operation, we recommend our own

in-house procedures.

In-house set-up requires a color transparency or computer artwork in the following formats:

Quark Xpress, Adobe Illustrator, Freehand or Photoshop.

CD or E-mail can be submitted.

A $450.00 (g) non-refundable set-up and sampling charge will be applied. We recommend having a color key or photo to match colors. Any alterations or typesetting will incur an additional charge of $50.00 (g) per hour. Minimum order 288 pcs.

Re-Orders $240.00 (g) After Six Months.

Back to TOP

Curving Templates Available if Needed Call Factory

Back to TOP